Are chatbots a hype? Are they here to stay? because right now? These are just some of the questions that are involved in the world of chatbots.
Let's start from the beginning. Nowadays the mobile market is saturated and it is very difficult to engage the users with a new application. Most users spend almost 90% of their mobile time in social applications and messaging applications like Facebook Messenger, Whatsapp, Telegram, Kik and many more. In fact, messaging applications has a higher MAU (Monthly Active Users) than social applications.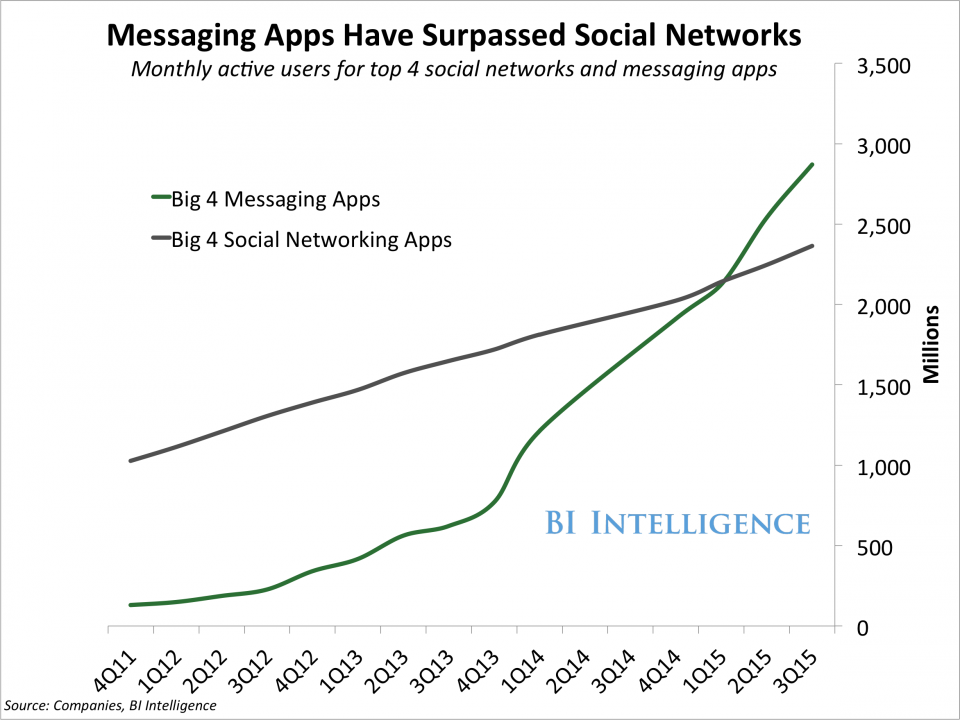 Looking at these statistics, it's easy to thing that the brands needs to go where the users are.
The chatbots is only a new channel of communication between users and the brands. The content shared in this channel can be custom for every users and targeted using a natural language.
I think that they are different points of view to explain the reason why everyone is speaking about chatbots.
Channels saturation
Emails, mobile apps, social media channels are saturated with a lots of new apps and content. The chatbot channel is new but we have to learn about the past fails and try to avoid to saturate it.
Technology
What makes a chatbot very useful is the AI behind it. This technology has advanced a lot in the past years thanks to the computional power and we are going to see more advances in the next yeards.
Natural language
This channel allows the user to communicate with a brand using a natural language, plain and direct, either with voice or with text.
Some people think that the chatbots will be the new browser to discover new content, other things that they will be like humans… but until then, it's just a new channel where everyone is trying new things and just a few ones has a real application for the user.
The chatbots can't reproduce human personality and we have to teach people how to use them… Obviously the future of the chatbots and of course of AI is promising and we are going to see amazing usages in the next months/years.